Services > Information Technology > Network Services
WISE provides comprehensive network services, from network design to constructing and managing network systems.
Network Consulting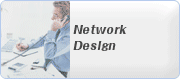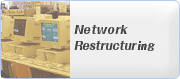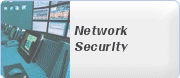 Please contact us for all of your network needs. Regardless of the network size in mind, we can help design the perfect network system to meet your requirements.
Major Services
We provide network solutions, from network design to constructing and managing network systems.
We offer Internet solutions, from designing and constructing an Internet connection infrastructure to building and operating web servers for your website.
We provide corporate intranet solutions, from creating file and printer sharing environments to constructing in-house system servers.
We can design the perfect network to match your budget.
We can analyze your existing network to pinpoint any problems and provide solutions.
We offer comprehensive security solutions, from developing information protection rules to protecting your system from unauthorized access and viruses.
Network Design and Construction
WISE can provide detailed design and construction of the optimal network system.
Design and construction of network wiring
Selection, installation and configuration of network equipment
Installation and configuration of network servers
Installation and configuration of client PCs
Selection, installation and configuration of software
We are committed to constructing network systems that are customized for our clients.
We can make effective use of your existing equipment to design a system at minimum cost.
We also offer consultation on the selection of new equipment based on your needs and budget.

WISE can also provide operation and maintenance services using our thorough support system to ensure your network system operates at its full potential.
See "System Support"