Services > Multimedia Production > Website Design
Website Development and Redesign
Not only do we provide website development, including website planning, design, hosting and operation, based on your business goals, but we also offer consulting and planning to ensure long-term operations.
In communication with our clients, our staff is always careful about being clear and easy-to-understand, eliminating technical jargon as much as possible.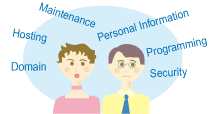 Website Design Tailored to Diverse Website Features
Today's websites are diverse. Design- and fashion-oriented sites make strong use of images and video content, while lighter universal design sites focus on accessibility and the sharing of information. At WISE, we can assemble teams of website planners, designers and coding staff fluent in these website concepts, to help develop your website with a smoother, more practical approach.

Areas of website development
Corporate sites
Online shopping sites
Multilingual sites
CMS and other program management sites
Intranets, etc.
Programs for Easy Website Updating from Your Office
We have experience developing website update programs that can enable you to more effectively update your website with the latest information. Please contact us for information on how we can provide you with an update program that meets your requirements and the conditions of your operation site and office staff.
Support Services Associated with Website Operation
We can help you in a wide array of website operational works.
1. Services when making your website public
- Search engine registration, domain search/registration, cgi rental server installation
2. Services for operating your website
- Access analysis, access counter installation